By Ana Pérez-Gironés, Department of Romance Languages and Literatures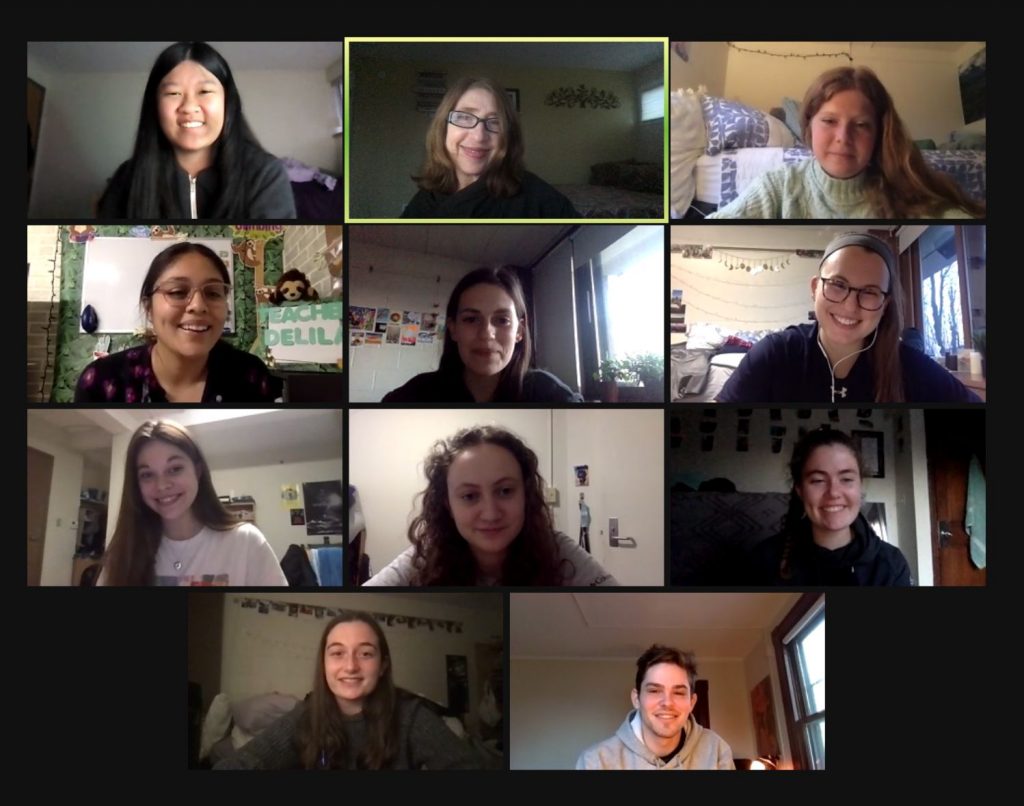 Sometimes one does not have to travel far to step out of Wesleyan and into the world. In fact, sometimes one does not have to move at all. If the Covid-19 pandemic has taught us anything, it is to utilize technological resources to "be" with other people when we cannot leave the place where we are.
This is the case for a group of ten Wesleyan students that is volunteering to teach Spanish after-school lessons via Zoom for the children of Farm Hill Elementary School in Middletown. Since February 22, these Wesleyan volunteers have been leading weekly 30-minute Spanish sessions. Classes are taught in pairs, and are also accompanied by a Farm Hill teacher.
The initiative started when a couple of parents and members of Farm Hill's School Governance Council reached out to me during the winter break, wondering if there would be any students willing to volunteer to teach some Spanish to Farm Hill kids. "Parents were a driving force in pursuing this program," said Principal Jennifer Calabrese. However, Principal Calabrese was instrumental in making it happen right away.
In January, I sent a message to Wesleyan students enrolled in upper-level Spanish courses. Twenty messages of interest yielded the impressive number of ten volunteers. However, the response is not that surprising, since Wesleyan students have a long history of reaching out to Middletown and Connecticut. Community involvement is a requirement of several academic programs, and teaching or supporting teaching and learning environments is a frequent form of service, such as the Practicum for Education Studies majors and minors.
Farm Hill Spanish volunteer Sofia Liaw '22 signed up to teach after-school Spanish as a way to gain more teaching experience while fulfilling the service-learning requirement for the course Community Impact: Building Capacity to Support Educational Enrichment and Socioemotional Development (CSPL 277). Sofia has already been a course assistant for Elementary Spanish, and is a regular peer tutor in Spanish at Wesleyan—she expects all these teaching opportunities to better prepare her to become a Spanish teacher after she graduates from Wesleyan.  For volunteer Jessica Van Valkenburg '22, majoring in Psychology and Spanish, with a minor in Education Studies, "tutoring elementary school students in Spanish seemed like the perfect situation."  Besides volunteering, all ten Farm Hill after-school Spanish teachers are concurrently enrolled in a group tutorial with me. In our weekly meetings, we develop a curriculum and lesson plans, and provide a forum for reflection on pedagogical areas of success and improvement. We also have some guests planned—Principal Calabrese was our first, and she talked to us about her school and the Middletown school district in general. Our next guest will be Delila Flores '19, who is currently a Spanish teacher at an elementary school in Chicago.
The response to the initiative from the Farm Hill families has been equally impressive—75 children signed up for Spanish classes (there are a total of 315 children enrolled at Farm Hill, which makes it the largest elementary schools in Middletown and a very diverse one as well). Thanks to our large number of volunteers, we were able to create small groups of no more than 7 students (most groups are under 5) that are mindful of the children's developmental differences. Thus, we have sessions for kindergarten and first grade, second and third grades, and fourth and fifth grades together.
So far, the feedback for the after-school elementary Spanish classes has been wonderful. Sarah Shapiro, a Farm Hill mother of two and a member of the School Governance Council, reports that parents are very happy with the initiative. She herself described the new Spanish lessons as "refreshing": "My kids […] have been enthusiastic, which is remarkable considering they are overly saturated with zoom at this point." Moreover, a parent reported that the Spanish lessons have become inspirational for her child's grandfather, a native Japanese speaker, who is now developing lessons to teach his grandchild their heritage language.
Sergio Gonzalez, whose son attends Farm Hill and is also on the Governance Council, is convinced of the benefits of learning more than one language: "Teaching your brain to think differently about a common practice like communication is at the cornerstone of brain development, and something we really want for our Middletown kiddos." Gonzalez, like Principal Calabrese, hopes to have an in-school language program in the near future. But for now, Gonzalez says that parents are "super excited and grateful for the after-school program that Wesleyan faculty and students have worked so hard to put together for us."
The feeling of excitement and appreciation is mutual. Middletown has been my home for over 30 years, and my own two children attended Farm Hill. When they were in kindergarten and first grade, I volunteered to teach Spanish classes once a week, like my students do now.  I had the advantage of in-person hugs at the end of the class, but I know that, despite being on Zoom, the Wes volunteers feel the warmth of the children's enthusiasm with Spanish. In fact, connecting with the children is all the more meaningful this year. We all feel like Farm Hill Spanish volunteer teacher Sam Lao '22: "I am excited to be working with students particularly during the Covid-19 time, as students may be struggling to feel engaged in their education because of the quarantine."
And hopefully, very soon, Wesleyan volunteers will be supporting a second language during-school program!