Written by Inayah Bashir '20
On Thursday, November 21, 2019, FCGS celebrated International Education Week by highlighting how students can use fellowships to develop international experiences. Using Fellowships to Build Your Global Experience was an afternoon panel featuring students who have completed the fellowship application process this Fall.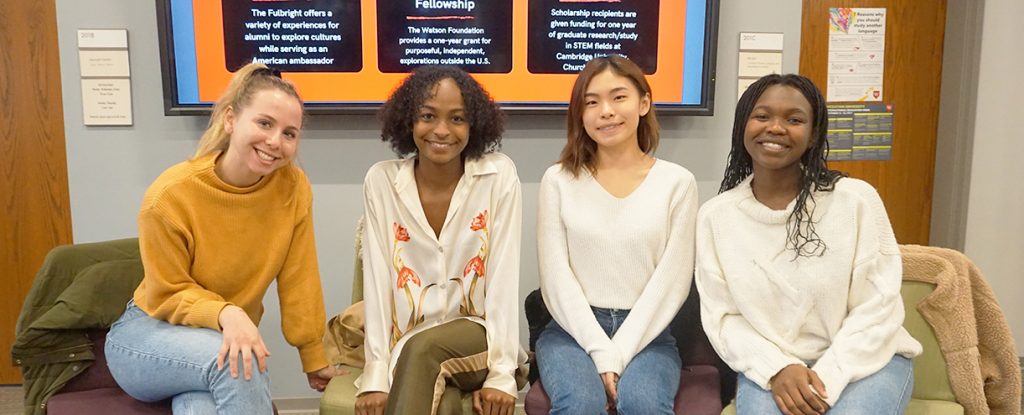 Three student panelists and a student moderator shared their experiences, takeaways, and advice on how to make the most of the fellowship application process. Inayah Bashir '20, Fellowship Assistant in the Fries Center for Global Studies, moderated the panel. She is a senior majoring in the College of Social Studies who applied for the Watson Fellowship and a Fulbright English Teaching Assistant (ETA) Award to Kenya with the hopes of exploring the diversity alive within the African diaspora. Maya Bernstein-Schalet '20, a panelist, is a senior majoring in Anthropology. She is currently working on a thesis about Caimanera, the Cuban town nearest to the U.S. Naval Base in Guantánamo Bay. She applied for the Watson Fellowship to study the effects of U.S. military installations on communities around the world, and she also applied for a Fulbright ETA Award to Mexico. Afrah Boateng '20, a panelist, is a senior majoring in Economics and Film Studies. She applied for a Fulbright ETA Award to Senegal because she was seeking an opportunity to help her gain valuable skills and build upon her international experience. The third panelist, Ivy Lam '20, is a first-generation college student majoring in Neuroscience and Behavior with a minor in East Asian Studies. She applied for a Fulbright Study/Research Award to China to study the cultural basis of the neural/mental health stigma in the Chinese community because in the future she hopes to provide specialized medical care to the Asian American community.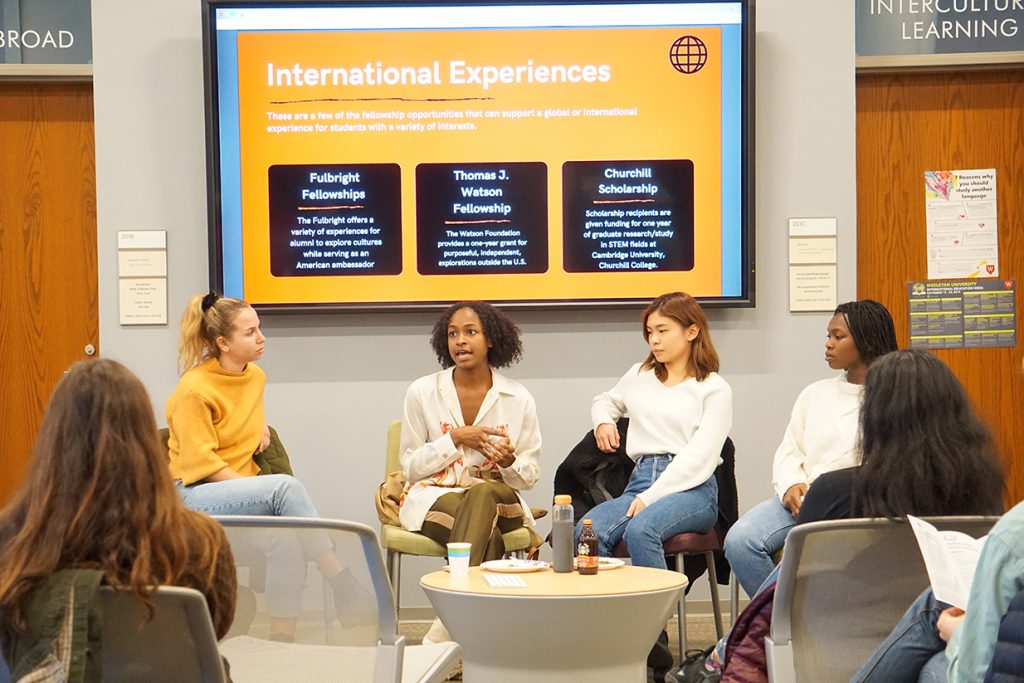 Below are a few of the takeaways and major themes that were discussed in the panel.
What was your motivation for applying to fellowships?
Each of the panelists said that her motivation naturally extended from her personal interests. Afrah mentioned that she wanted to gain more international experience. Ivy plans to use the fellowship to help her build the foundations of her career in the medical field. Overall, the panelists were excited to pursue a fellowship so that they could further develop their academic interests, professional goals, and international experiences.
Major Takeaway: Explore and reflect on your interests. Then, do your research on which fellowships can support that!
What was your timeline? What habits make it possible for you to work through the application process?
The panelists made it very clear that the timeline for the application process is very dependent on the applicant's experiences, interests, and commitments. While Maya and Inayah began their applications at the start of the summer, Ivy started hers much later. Afrah also began her application a little later and spoke about how encouragement from Magda, Assistant Director of Fellowships, nudged her to start her application process. The panelists suggested that the hardest part of the application process can be the act of actually putting ideas down on paper.
For Ivy, it helped to discuss her ideas with close friends. Inayah said she worked through "writer's block" or "writer's stress" by not putting too much pressure on the first draft. Each candidate reaffirmed that they wrote and rewrote their application essays several times with the help of peers, professors, and Magda. Maya advised future applicants to take the leap and reach out to people who are interested in the topics that your fellowship may be focusing on. She reached out to professors, organizations, and professionals for advice on her project proposal, and she was shocked by how responsive they were!
Major Takeaway: Don't shy away from feedback! Talk about and think about your ideas with others, but also take the leap of faith and try to get it down on paper!
What did you learn from the process?
The panelists agreed that the application process was a great source of reflection. Each spoke about the ways that the application forced them to grapple with who they are, what they want, and what they want from the future. Further, panelists spoke about the professional and developmental benefits of beginning their senior years with such an intensive reflection process. Afrah mentioned that the application and interview process for the Fulbright ETA Award helped prepare her for the job-hunting process, and the experience of interviewing with the campus committee gave her more confidence interviewing for jobs (she did get a job offer!). On the same note, Inayah spoke about the ways that the application process taught her to share her story and passion with audiences who don't know much about her.  Each panelist mentioned how grateful they were for Magda's support in helping them to effectively advocate for their candidacy in the fellowship process. In general, panelists spoke about their ability to become comfortable with speaking about their interests, passion, and success!
Major Takeaway: The application process can encourage a lot of self-reflection that helps with developing useful professional skills! Also, visit Magda (Assistant Director of Fellowships); she's a great help!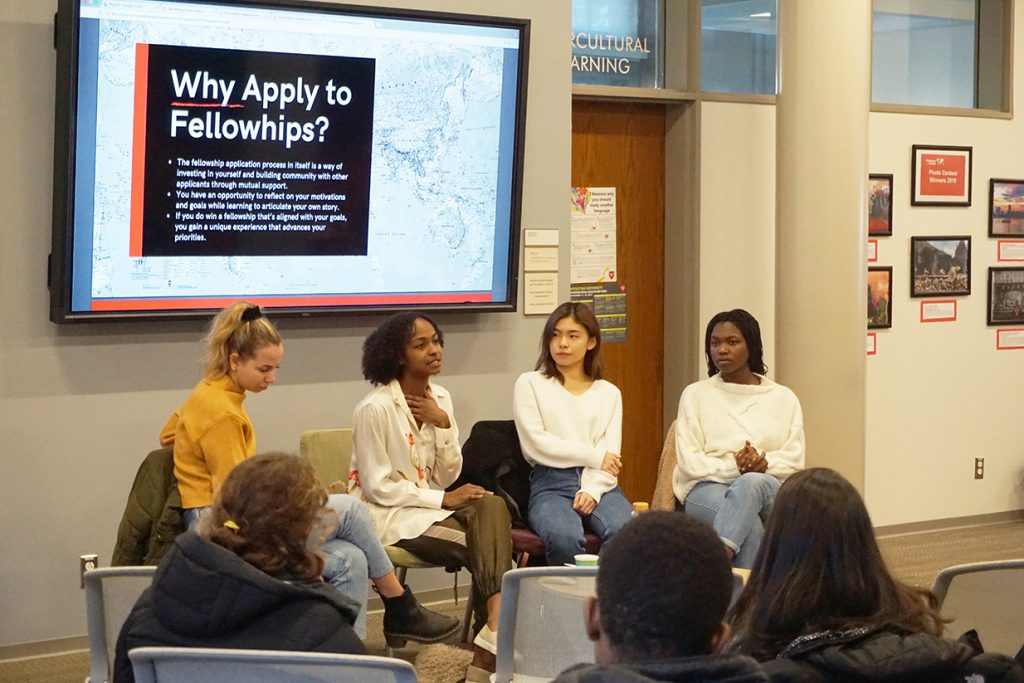 There was a healthy Q&A session that followed the panel, and it was clear that by sharing their experiences, the panelists were able to help students decide which fellowships might be valuable in helping them to pursue their own interests.