Each year the Fries Center for Global Studies asks Wesleyan students who have had any global experience over the previous summer and/or previous semester to submit photographs to the annual Wes and the World Photo Contest. This group includes study abroad returnees, international students, exchange students, fellowship recipients, and foreign language teaching assistants.
The purpose of the Wes in the World Photo Contest is to share stories about humanity across the globe through photographs within these four categories: contemporary issues, landscape, people, and cross-cultural learning. Our hope with these categories is to allow students to reflect on ways in which their global experience transcends borders by working towards perspective-taking, appreciating the wonderful landscapes of the earth, and raising awareness about peoples and cultures outside of their ethnocentric lens, and connecting with others cross-cultural exchange.
​
Students are not required to be professional photographers to participate. In fact, our photo jury is more interested in the stories behind the photographs than the photo-editing software they use. Winning photos will be judged by the stories and descriptions of how the photographs capture the categories stated above. We look forward to your submission!
---
SUBMISSION GUIDELINES:
Eligibility: The photo contest is open to all Wesleyan University students.  Students must have a valid Wesleyan email address to submit photographs.
​
Contest Rules: Photos must be your original work.​
Photos must be free of alcohol, cigarettes, drugs or any inappropriate content.
You may submit no more than 1 photograph per category for a contest total of 4 submissions. ​
How to Submit: Describe all photos on the contest entry form.​
Please title your file: FIRST_LAST_CATEGORY   (i.e. Jane_Doe_People)
In order to be displayed in our online gallery without being stretched or distorted, photographs must be submitted in .jpeg format, at least 2,000 pixels wide and no larger than 10 MB. ​​
Entry Deadline: _______________
---
SUBMIT YOUR PHOTOS!
We have 4 categories for photo submission: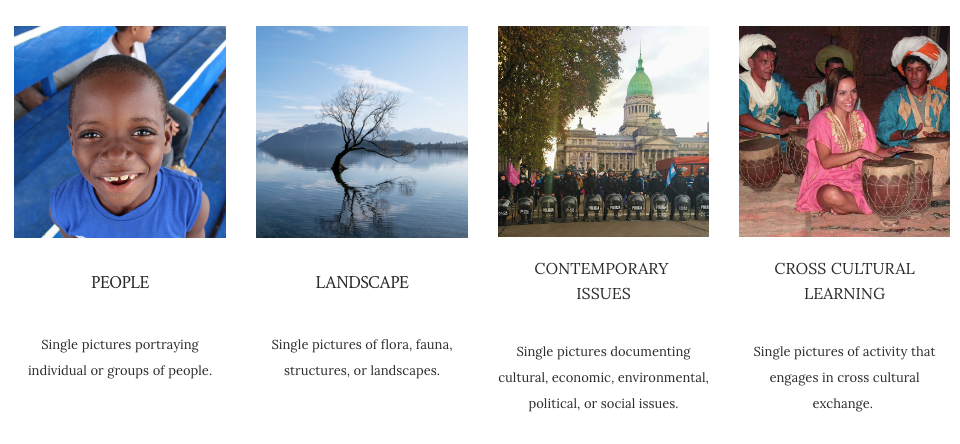 People: Single pictures portraying individuals or groups of people.
Landscape: Single pictures of flora, fauna, structures, or landscapes.
Contemporary Issues: Single pictures documenting cultural, economic, environmental, political, or social issues.
Cross-Cultural Exchange: Single pictures of activity that engage in cross-cultural exchange.
---
PHOTO RELEASE PERMISSION:
I hereby grant Wesleyan University's Fries Center for Global Studies permission to use my photographs and/or video in any and all of its publications, including webspace, and in any and all other media, whether now known or hereafter existing, controlled by Wesleyan University's Fries Center for Global Studies, in perpetuity, and for other use by the University. I understand that by submitting photos to the Wes in the World Photo Contest,  I am agreeing to grant the Fries Center for Global Studies license for use of the photographs in displays related to the contest and in the CGS printed and electronic publications. Photos may be modified, retouched, and used for promotional purposes, such as on the Fries Center for Global Studies website, Facebook, Flickr, and in brochures, flyers, annual reports, or posters. I will make no monetary or another claim against Wesleyan University for the use of the photographs and/or video.