Three of Wesleyan's recently selected Fulbrighters from the Class of 2023, Anna Tjelveit, Ben Levin, and Nick Bowman, gathered in Fisk Fall on May 3 to share their experiences with other students planning a Fulbright application. They talked about their experiences with the application process and their expectations and goals before departing the US this summer. Anna and Ben were awarded English Teaching Assistant (ETA) grants in Germany and the Czech Republic and Nick is the recipient of a Study/Research grant to pursue an MA at the University of Haifa in Maritime Civilizations. The Fulbrighters shared how to find a country and program that is the right fit and tips for crafting a successful application.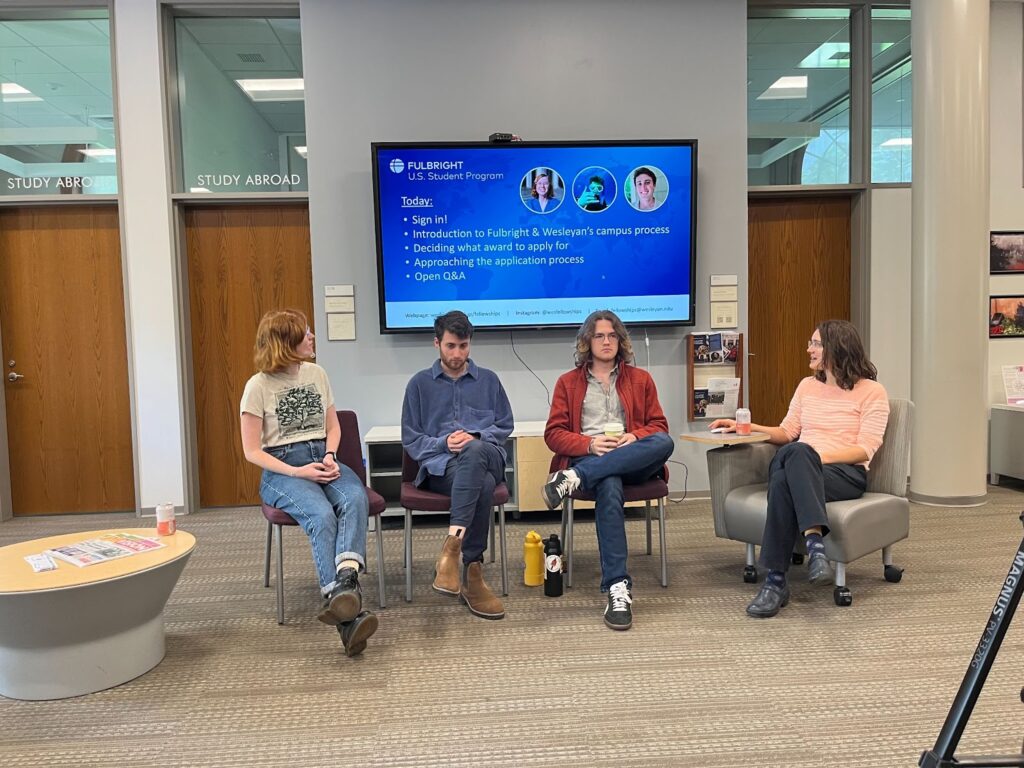 What is the Fulbright US Student Program?
The Fulbright Program is the flagship international educational exchange program sponsored by the U.S. government and is designed to increase mutual understanding between the people of the United States and the people of other countries. In partnership with more than 140 countries worldwide, the Fulbright U.S. Student Program offers unparalleled opportunities in all academic disciplines to passionate and accomplished graduating college seniors, graduate students, and young professionals from all backgrounds. Program participants pursue graduate study, conduct research, or teach English abroad.
During their grants, Fulbrighters will meet, work, live with and learn from the people of the host country, sharing daily experiences. The program facilitates cultural exchange through direct interaction on an individual basis in the classroom, field, home, and in routine tasks, allowing the grantee to gain an appreciation of others' viewpoints and beliefs, the way they do things, and the way they think. Through engagement in the community, individuals will interact with their hosts on a one-to-one basis in an atmosphere of openness, academic integrity, and intellectual freedom, thereby promoting mutual understanding.
About our panelists:
Anna Tjeltveit, '23, is a German Studies and English major from Allentown, Pennsylvania. At Wesleyan, she works as a Writing Tutor and co-leads the Wesleyan Democratic Socialists. A creative writer, she has published short stories and plays in several small literary magazines, including The Lavender and Hive Avenue. Her other literary engagements include working with Professor Courtney Weiss-Smith to edit the Norton Anthology of English Literature: 18th Century, and producing the Words of Wesleyan podcast, which featured discussions by Wesleyan community members about the role of writing in their lives. Since 2019, she has worked at Concordia Language Villages as a German language counselor, and this summer she will begin teaching Norwegian there as well. Currently, she is working on her honors thesis, a novella about environmental destruction in socialist East Germany. During her time in Germany, she plans to engage with the literary community by joining a writing circle, volunteering at a literature house, and incorporating creative writing into her English lessons. After spending time in Germany, she hopes to return to the United States and pursue a Master of Arts in Fiction Writing
Ben Levin, '23 has been awarded a Fulbright English Teaching Assistant in the Czech Republic for the 2023-24 year. At Wesleyan, he majored in Government and Education Studies and pursued the Civic Engagement minor, and his professional interests lie in education equity and legal advocacy. Throughout his four years, he's worked on various research projects examining education clauses in US state constitutions and desegregation court cases. After his Fulbright experience, Ben hopes to pursue a legal career, a career in policy, or a career in education to make substantive change to inequitable systems. Ben hails from Nyack, New York and has spent the past many summers as a division head and counselor at Ramah Day Camp in Nyack. Outside of academics, he's competed on Wesleyan's Mock Trial and Club Tennis teams, sang in The Mazel Tones, Wesleyan's Jewish a capella group, and worked in the Office of Admission. This coming year, Ben looks forward to learning about the Czech education system and bringing new perspectives back to work in the United States.
Nick Bowman, '23, is from Carlisle, Pennsylvania. At Wesleyan, he is majoring in Archaeology and Classical Civilizations with a minor in Environmental Studies. During his undergraduate studies, he conducted international archaeological and marine science field-based projects in Israel, Scotland, and the Turks and Caicos Islands. This summer he will return to Israel as a geographic information systems (GIS) specialist on the archaeological excavation at Tel Shimron. His undergraduate honors thesis explores maritime connectivity and mobility in the southeastern Aegean and Eastern Mediterranean during the Neopalatial Period of the Late Bronze Age. Using modern wind speed and direction data in conjunction with sailing performance metrics of Neopalatial vessels he approximates sailing times and likely routes of travel between coastal settlements using GIS, which he compares to extant ceramic assemblages from those sites. Nick has been awarded a Fulbright fellowship to pursue an MA in Maritime Civilizations at the University of Haifa, where he plans to expand upon his undergraduate research by exploring interregional maritime connectivity between sites on the Israeli coast with other coastal settlements across the eastern Mediterranean during the Late Bronze Age.
Learn more
To watch a recording of the panel, email fellowships@wesleyan.edu for the link and access details (Wesleyan community only).