On behalf of everyone at the Fries Center for Global Studies, we would like to extend our thanks to all campus member who participated in Power of Language Week 2023. Special thanks to students, faculty, and staff, as well as our campus sponsors, for collaborating and supporting the mission to expand and celebrate multilingualism at Wes! Power of Language Week seeks to bring together multilingual students with students of foreign languages in an attempt to knit together the multilingual community on Wesleyan's campus in order to recognize their efforts in and outside of the classroom, in curricular and co-curricular activities. We hope you were able to join us in accomplishing this mission, and we can't wait to celebrate Power of Language Week with you again next year! In case you missed it, here are a couple of highlights from the week of events:
Peace Corps Information Session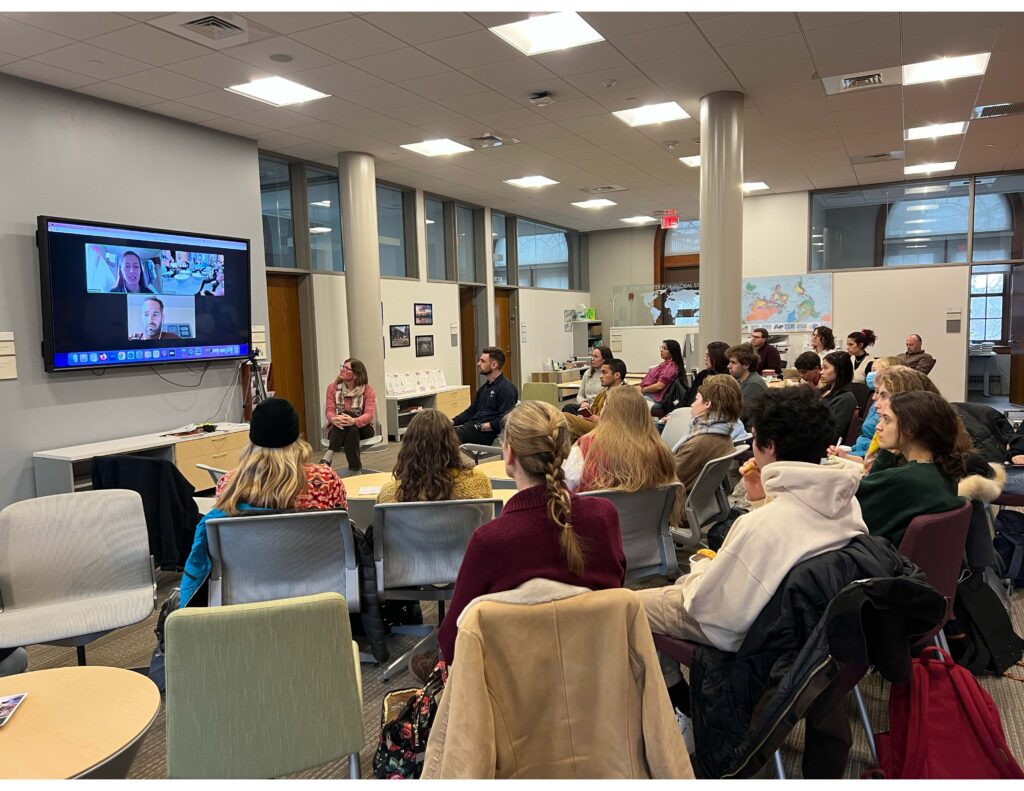 The Peace Corps was started by John F. Kennedy in 1960 and is "rooted in a shared vision for what is possible by working with, living alongside, and celebrating the diversity of cultures around the world." Here, we heard from two outstanding alumni, Ameen Beydoun '11, who completed service in the Comoros and Liberia, and Andrea Weires '19, who is currently serving in the Dominican Republic, and who each had compelling stories about their global engagement journeys, experiences, and lessons learned. Each shared evocative anecdotes about how challenging yet rewarding their time with the Peace Corps has been and the ways in which it has steered their passions and career paths. It was fascinating yet very informative to learn about these alumni's decision-making processes as well as their journeys through the Peace Corps and beyond as globally engaged citizens. To read more about this event, click here. Special thanks to Anita Deeg-Carlin, our Associate Director for Intercultural Learning, Andrew Starcevic, Regional Peace Corps Recruiter, and Ameen and Andrea for putting together such an illuminating event!
Author-in-Conversation with Rebecca F. Kuang
Rebecca F. Kuang is the award-winning, #1 New York Times bestselling author of the Poppy War trilogy and Babel: An Arcane History, as well as the forthcoming Yellowface. She has an MPhil in Chinese Studies from Cambridge and an MSc in Contemporary Chinese Studies from Oxford; she is now pursuing a PhD in East Asian Languages and Literatures at Yale.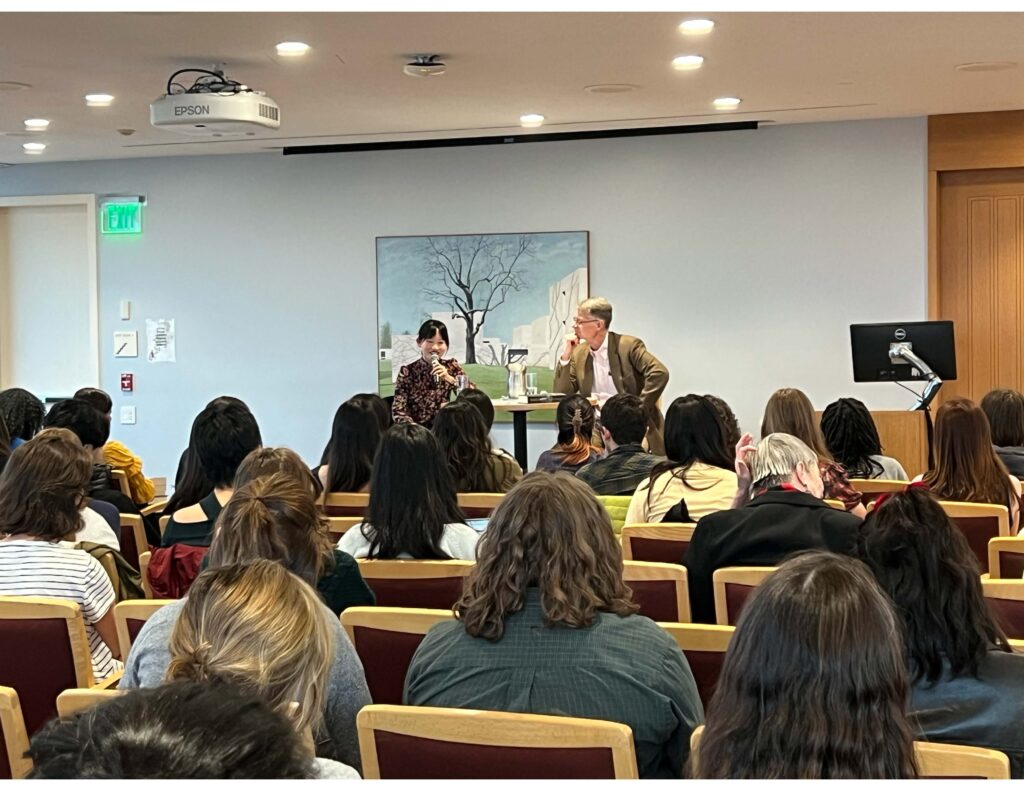 This event consisted of a conversation between Kuang and Professor Stephen Angle, Director of the Fries Center for Global Studies, about the inter-relations between languages, translation, and colonialism—as developed in Babel and more generally. It was then followed by questions from the audience and a book signing.
Kuang shared many enlightening thoughts on the dark history of academic institutions and gave in-depth answers to questions regarding translation and its intersections with colonialism, as well as sharing interesting details about the writing and thought process behind her book. With over sixty attendees and nearly as many books sold, Kuang kept the audience engaged and intrigued throughout the entire event. The excitement in the audience was palpable, and nearly everyone stuck around for the book signing and photographs with the award-winning writer. Endless thanks to Rebecca F. Kuang and Authors Unbound, as well as our sponsors: College of East Asian Studies, Department of History, South Asian Studies Minor, Department of English, Division I Dean's Office, and the Thomas and Catharine McMahon Fund.
Deaf in America & Sourd(e) en France
Pedro Pascual, Assistant Professor of the practice in American Sign Language and Catherine Poisson, Associate Professor of French Studies, led a side-by-side discussion on some of the cultural differences between the French film La Famille Bélier and its American remake CODA. Both Professors shed light on how the French film, whilst trying to give a voice to the Deaf community through the eyes of a Deaf family in rural France, misses the mark on creating an accurate depiction of Deaf culture and French Sign Language. For instance, many Deaf viewers could not understand the sign language being used for the film or noticed that what the actors were signing was wrong. Additionally, there were other details throughout the film that made it evident that the Deaf community was not consulted enough in the making of this movie. In contrast, Professors Pascual and Poisson discussed how in CODA, there was an active effort to work with Deaf actors and members of the community, and the sign language used in the movie was clear and correct. Despite both films being major successes in their countries of release and raising awareness on issues within the community, Pascual highlighted how one did a much better job of being accurate and respectful towards the Deaf community. A huge thanks to Professor Pascual and Poisson as well as the Department of Romance Languages for putting together such a cool event!
Sign Language Introductory Workshop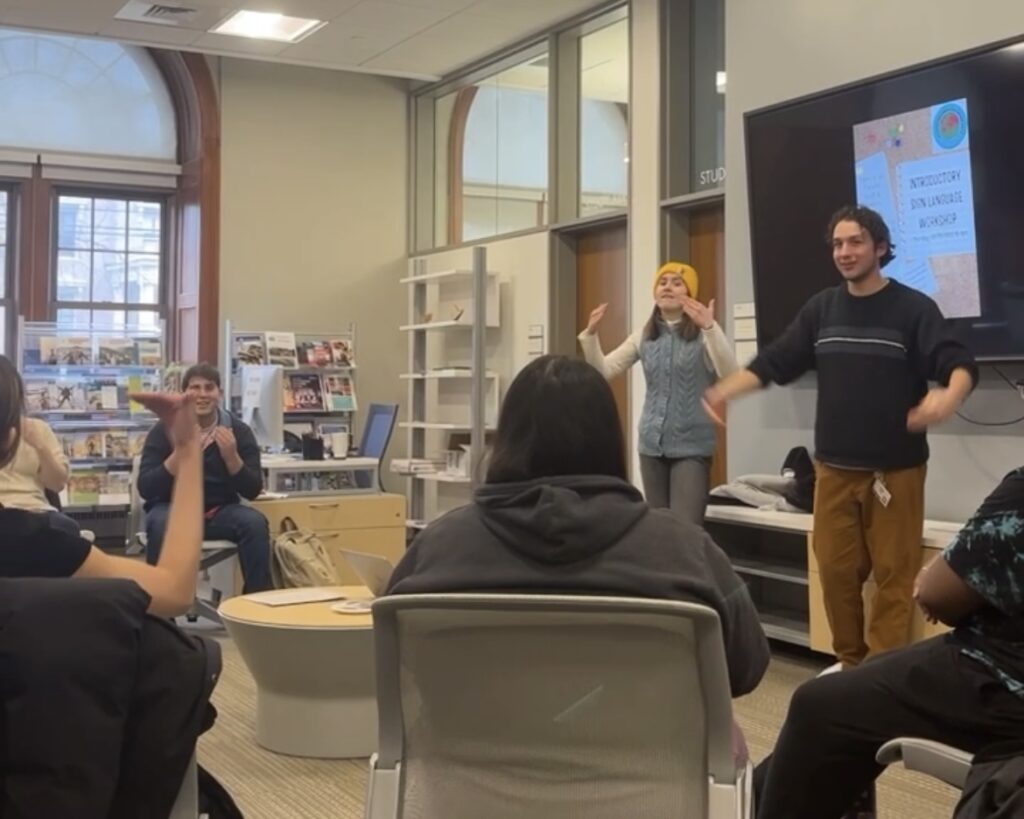 At this workshop, American Sign Language Course Assistants Kai Tripician and Vivian Redmond invited students as well as faculty and staff to learn some sign language as beginners! This was an introductory workshop for some basic greeting vocabulary. Attendees got to learn the sign language alphabet and a handful of and phrases, such as "How are you?" "What is your name?" and "Nice to meet/see you", among others! Everyone had a blast and got to try their new vocabulary in pairs by introducing themselves by finger-spelling their names and practicing their introductory questions and answers. Thanks to Kai and Vivian for their awesome tips and tricks and for being such motivated ASL CAs!
Once again, thanks to everyone who collaborated with us over at the Fries Center for Global Studies and to all our sponsors—we hope to see you at Power of Language Week next year!
If you are interested in reading more about the mission of Power of Language and other events that were hosted during this week, please click here to learn more. If you have any questions or comments you'd like to share about Power of Language Week 2023, feel free to email Verónica Socorro Matos (Steering Committee Leader) at vsocorro@wesleyan.edu.