written by Megan Bauerle '24
The Fries Center for Global Studies is thrilled to introduce Associate Professor of the Practice in French, affiliated faculty at the Fries Center for Global Studies, and one of our newest members of the Global Engagement Minor Advisory Committee, Professor Liana Pshevorska. 
Background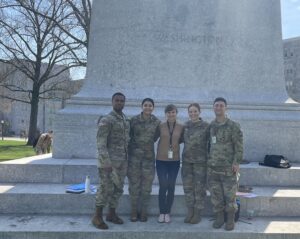 Professor Pshevorska grew up in Ukraine in a multilingual environment speaking Russian, Ukrainian, and English, continuing to build her language ability through higher education in the United States studying French.
Pshevorska earned her Ph.D. at Princeton in 2020 and then taught at the United States Military Academy at West Point before coming to Wesleyan in 2022. Wesleyan's liberal arts environment, diverse student body, and curriculum opportunities stood out to Pshevorska when applying. She looks forward to strengthening the French language program and creating more French extracurricular opportunities at Wesleyan. 
Research in Translingualism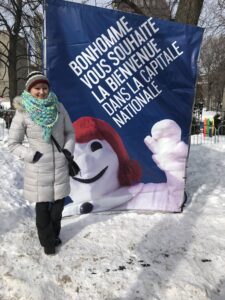 Pshevorska's research focuses on translingualism (a term created by Steven Kellman). She studies literature produced by authors writing in their non-primary language or produced in more than one language. Pshevorska studies contemporary French authors from outside of Francophone countries, such as Russian, Slovenian, Greek, or Iranian authors. Her research also intersects with studying migrant literature, because translingual authors often have migrant backgrounds. Pshevorska's own background as a migrant and multilingual speaker helps motivate her research as well. 
Speaking on the most interesting revelation of her work, Pshevorska emphasized that "things are not always what they seem" in translingual literature. Monolingual texts can support multilingual community backgrounds, while a text in multiple languages might defend the idea of a language's monolingual past. Literature labels for texts within specific regions can carry markers of otherness or regional stereotypes projected by the reader that change how the text is perceived. Pshevorska's research and coursework approach these ideological conflicts within multilingual works, connecting themes of language, identity, and community within translingual studies.
Language Courses Emphasize Identity and Multilingual History
Pshevorska has taught a range of language courses, highlighting her skill in teaching beginning and intermediate language, which builds the base for students to read complex texts, but also to study language itself in her courses on translingualism. 
Pshevorska's courses include a large timeline from the Middle Ages to modern-day "Twitterature." When it comes to studying language across large periods of time, Pshevorska notes that sometimes a language is viewed as an entity to be respected and revered, and currently there is a bias towards believing that monolingualism has been the norm. However, "language has always been interacting with other languages and other cultures." For French, this includes interactions with external languages such as Latin, English, and Arabic, and with internal changes between oral and written traditions. Studying the past helps us understand how languages developed into their current forms.
Pshevorska has taught writing seminars on French translingualism. She incorporates texts on translingualism into student reflections on their personal foreign language identities. Her favorite moments in teaching language and translingual studies are to see "aha" moments from students understanding new concepts. 
Importance of Global Engagement at Wes and Beyond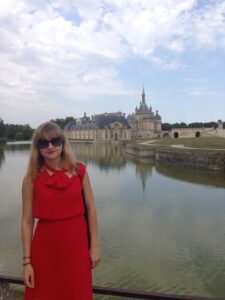 Pshevorska joined the GEM Advisory board because she appreciates how the Global Engagement Minor is unique in its ability for students to curate their GEM coursework around their personal multicultural interests. At the same time, the minor encourages students to decenter themselves and to interact with cultures and organizations that help them recognize their own biases and cultural constructions. 
For students, Pshevorska offers this advice on language learning and cultural engagement: 
 "Language learning is not a math or physics formula that you can crack and apply. What is important and valuable in learning other languages is this understanding that there is linguistic ambiguity… part of the value in learning a foreign language is there is a value to just accept linguistic ambiguity, where full transparency may not be available. As far as interacting with other cultures, that allows the dignity of opacity."
French Opportunities on Campus
If you want to be involved in the French community at Wesleyan, Pshevorska advertises the Maison Francophone, the French Language program house. This house brings together residents currently learning French, who have learned French in the past, or anyone interested in maintaining their French language ability. Maison Francophone organizes multiple cultural events, movie nights, and more throughout the semester.
For more information, you can reach Professor Pshevorska at lpshevorska@wesleyan.edu.
Megan Bauerle, Class of 2024, mbauerle@wesleyan.edu