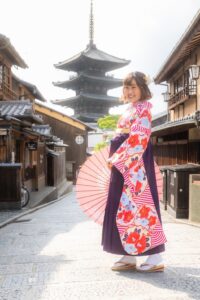 Konnichiwa! Hello everyone, I am Kotoha Mori, the Japanese language FLTA for the academic year 2022-2023. My name is written as 琴華 in Japanese Kanji script. I was born and raised in Kyoto, a beautiful city in the Kansai region of Japan. Kyoto was the capital city until 1869 and is still regarded as the cultural capital of Japan. I live in the countryside and my town is a valley region in the Yamashiro basin surrounded by the Nishiyama mountains. My family grows rice and vegetables. Being a mountainous place, the region is home to a lot of animals like deer, fox, wild boars, wild rabbits, etc.
I graduated wirh a BA from the University of Kansai Gaidai in Osaka, where I studied Foreign Studies along with Japanese and Chinese languages. I also did a program on Teaching English as a Foreign language in Middle and High School classrooms.
I love cats, and I actively volunteer with the cat rescue teams in my town. All my cats have been recused by me and some of them are named as 'Jewelry-kitkat', 'pino', 'chi-kun', etc. I have made homes for my cats using cardboard and I miss them a lot.
I love drinking tea and playing piano. I am interested in listening to music, especially Japanese traditional Taiko. My favorite rock band is 'One Ok Rock', but I am keen in exploring music from other countries and cultures. I love dancing as well and can do Hula-hoop dance and Hawaiian Hula dance.
I
paint natural objects and animals, mostly I love painting my cats, capturing their various moods. Oh, and I love Harry Potter!
This is my first time is the USA, so I have come with lot of questions, imaginations and hopes. At Wesleyan apart from teaching Japanese, I also teach my students Origami, the Japanese art of folding paper and turning them to beautiful models. This opportunity to be a TA at Wesleyan has enriched me in various ways; I have been introduced to many people from diverse backgrounds, cultures, and languages, so I am learning many new things which I hope to share with my students when I go back to my country. Among those many new things, I am learning Spanish with the help of my friends.
I have already made many new friends and acquaintances. As a travel enthusiast I have visited some nearby cities like New Haven, New York, etc., and I am waiting for the winter holidays to travel extensively. The most cherished parts of my FLTA journey have been the relations I am developing and every little memory that I am creating and collecting.
Kotoha Mori, Japanese FLTA, kmori@wesleyan.edu