Chris Noh (he/him) Class of 2024, Film and East Asian Studies
November 13, 2022
Chris Noh felt intrigued and ambivalent prior to going to the spa (or "jimjilbang") but left feeling refreshed and hungry for a delicious dinner, which there is no lack of in Seoul, South Korea.
I woke up at 10:43am – slightly later than I was hoping for – excited by the busy day planned ahead of me. Firstly, I was going to visit my grandmother, who I'm fortunate enough to have actually living in the city where I am studying abroad. Then I was going to go to the spa. Hmm, perhaps not so busy…
However, even a "laid back" day such as this one in Seoul, can be rich with phenomena, new experiences, and insight due to the city's sophistication and scope.
Prior to taking the train to my grandmother's, I pop open my go-to maps app: "Kakao Maps." Kakao – if you haven't heard of the company – is an internet corporation that is universally known in South Korea.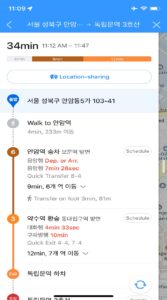 They serve as a Google-like service offering apps in the social media, navigation, banking, mail, and shopping sectors. Usually, when one meets another person here, they ask for their "Kakao" as a primary means of contact. After inputting my current location and end location, Maps says "Take Line 6 to 'Yaksu' and then transfer to Line 3" to arrive in 34 minutes. But, the precision doesn't end there. Additionally, it gives me train arrival time (to the second), the exact cart to get onto for the fastest "transfer" time, and walking times (which tend to be pretty accurate). Notice how it writes "4-4," which will be the closest cart to the stairs, that will then lead you to the next train line/exit. And this system works so accurately because these trains are rarely late. Like, their margin of error is ±10 secs. So if you're a chronically late person such as myself, Kakao Maps' advanced ETA technology at least allows you to do the displeasure of texting your friend precisely how long they'll have to wait for you 😉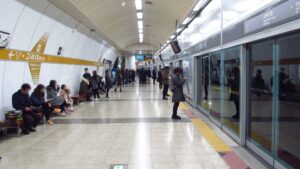 And you can know precisely which "cart" you are riding or entering because of the gate system that works in conjunction with the subway doors, labelled with entry numbers – an infrastructure that would make the New York subway weep.
Ok, 400 words on the subway, when I've got to talk about the main event: the Spa, also known in Korean, as the "Jimjilbang."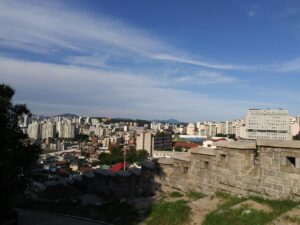 This was an organized activity among a group of exchange students and full-time Korea University students alike. I arrived at the meet-up spot anxious because, well, I heard in these jimjilbangs, it is culturally accepted – and expected – to be nude, in bathhouses, changerooms, and saunas. But our group were also truly excited for an experience that would be relaxing and a little more "authentically Korean" than others (like visiting a famous palace for example). As is the norm in South Korea, we were split by "sex" as men and women change/bathe in separate locations. We were given clothing and headed off to the bathhouses. For fairly evident reasons, I was unable to capture these spaces with my phone, but the changeroom and connecting bathhouse were fairly large, open spaces with facilities accommodating many guests. Luckily on a Sunday late afternoon and evening, demand was not too high.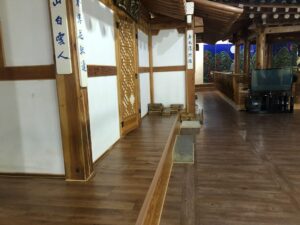 When you enter the bathhouse, on your left there's a long line of showers, both standing and "sitting" ones. Straight ahead, are several baths and saunas varying widely in temperature, that were about to both relax and destroy my body's sense of feel. The nearest bath sat at a deeply soothing and comfortable temperature of 39 Celsius (you can look that up in Fahrenheit), slightly above your body's normal temperature. Following that one is around 44, which upon first glance would be nearly identical, but jarringly feels like stepping boiling water. It's a clear shock to your nerves, but shortly thereafter, your body adjusts, leaving you in a loose, hazy daze which you should be careful not to completely succumb to (hydrate!). To my right, I see three saunas: 33, 39, and 66. It's clear that, despite crazy, we had to try to 66 degree sauna, and upon entrance, the scolding air moisture feels like you're standing in a hot pot, instantly exfoliating pore-cleansing sweat, but also telling you to be wary. Walking out of the room makes the warm general bathhouse seem like a step into the Arctic tundra with cool, clear air. It's typically practiced that once one enters these deliberately hot spaces, they immerse themselves in the cold pools, tucked away in the back left corner, measuring in at around 25 degrees and 12 degrees Celsius respectively. It's an unpleasant but cathartic jolt to the body that surely would wake anyone up from their sauna haze – especially the 12-degrees, which is, relatively, like stepping into an ice box.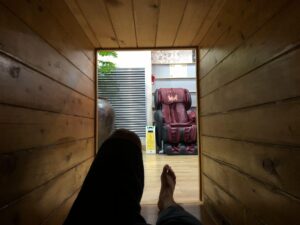 As you transition to main general spa lounge area, it's a wide space of facilities such as sleeping areas, smoking rooms, ice rooms, massage tables, dining areas, and famously, the dry saunas. These are rooms made of stone, sometimes containing pebbles or other natural hard materials, which can be up to 100 degrees Celsius. Luckily, the hottest available one at this specific location was 77 degrees, which had a more cozy warmth, quite pleasant compared to the 66-degree-humid-sauna of heat exhaustion. I spent the rest of my time exploring different rooms, including a "freezing" one (5 degrees), and a couple of sleeping spots, like this one that was in the shape of a long box, at first perhaps claustrophobic, but whose dark, confined feeling eases you to sleep in a way? In sum, the quiet, freely open, wooden-built, non-judgemental ambiance of the whole jimjilbang, combined with all of its calming facilities, made this visit a rejuvenating one!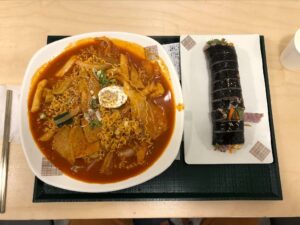 Oh and for dinner, I bought a plate of comically large "tteokbokki" and "kimbap" (Korean-style sushi), for 8,500 won (6.50 USD), no tip needed – try finding that deal in Middletown! In case my sinuses needed any more clearing, the persistent spice of the tteokbokki made my face sweat and required multiple trips to the water fountain to stay sane. Delicious, nonetheless!
Pretty okay Sunday.
Thanks for reading,
Chris Noh '24, cnoh@wesleyan.edu