The Fries Center for Global Studies is happy to give a warm welcome back to Verónica Socorro Matos from the class of 2021 as the Global Language and Outreach Fellow! Verónica graduated Wes with a double major in Romance Languages and Studio Art, with concentrations in French, Spanish, and Printmaking, respectively. After having spent the past year working in Corsica, France, Verónica has come back to join the initiative to expand language outreach on campus!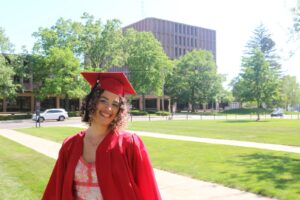 While at Wes, Verónica, who is a native Spanish speaker from San Juan, Puerto Rico, dove right into Francophone Studies without any prior knowledge of French, working up her language skills over time and eventually studying abroad in Paris her junior year with the Vassar-Wesleyan Paris Program (VWPP). While in Paris, Verónica took Art History classes at the Sorbonne in the University of Paris and at Reid Hall.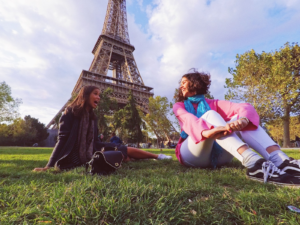 Back on campus, she worked as a teaching assistant for French, Spanish, and Printmaking. Additionally, Verónica was the recipient of the Susan Frazer Prize her freshman year in 2018 and the Ostrow-D'Haeseleer Prize her senior year in 2021, both awarded to the student with the most distinguished work in the French language sequence. Simultaneously, Verónica was also a Studio Art major, and her Honors Printmaking thesis, La basura del encanto, which had an installation in Zilkha Gallery, is available for electronic viewing here. 
After graduation, Verónica moved to Corsica, a Mediterranean island and a region of France, where she worked as an English teacher at an elementary school and later on as an au pair for the summer season. Verónica worked as a teacher as part of the Teaching Assistant Program in France (TAPIF), a well-known program among recent graduates looking to gain teaching experience, travel, and put their languages skills to good use.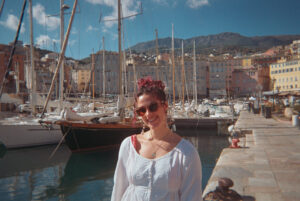 So, what's a GLO Fellow? The Global Language and Outreach Fellowship is a job for a recent Wesleyan alum whose studies consisted of a language education. Verónica is the first person to ever have this position! Part of her day-to-day includes working with the Foreign Language Teaching Assistants, the Language Collective, and the Language Buddies Program.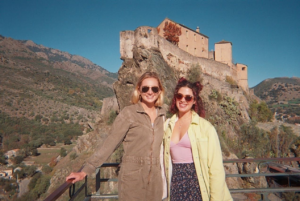 And that's just the beginning! Verónica is also involved in our newsletter, planning events for the Language and Culture Hub, and doing other kinds of outreach to promote language learning across the entire campus. You may catch a glimpse of her collaborating with different language sections for International Education Week or organizing other co-curricular activities at Wes throughout the academic year. This job is a great post-grad opportunity for those looking to learn more about language learning at the higher education level.
If you have any questions regarding the GLO Fellowship, VWPP, TAPIF, or any other work and travel opportunities and experiences Verónica mentioned, you may reach out to her via email at vsocorro@wesleyan.edu and she would be happy to tell you more!