Written by Emily McDougal '23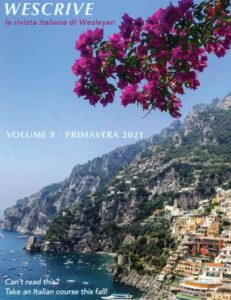 Welcome to this semester's issue of WeScrive, the only Italian magazine at Wesleyan University and one of its few publications not in English! As we all know, this has been the year of COVID and, as such, it's been a very strange time: at times depressing, at times stressful, and even at times horrendous. Furthermore, at Wesleyan, students have been either on-campus or online, classes have been a mix of remote and in-person, and we've reached a point where it's become difficult for us to remember what it feels like to be together in a room without needing to wear masks. Our fall edition dealt with these all too familiar feelings of disconnection and isolation from others. Yet, seeing as though at least in the United States things are improving – vaccines are available for anyone over the age of 16 in Connecticut and all Wesleyan students were able to receive their first dose on the weekend of April 24th – we wanted this volume to focus on the future and the hope that comes with spring. So, we decided to make the theme of this issue rebirth.
We start off our publication with a trip to discovering Italian cuisine: Anna tells us about how our relationship with food has changed and how we can restore it after months spent in lockdown and countless take-out orders, drawing from an episode of "Chef's Table" filmed in Sicily. The country's cuisine is also the protagonist of "Searching for Italy with Stanley Tucci", which Madeleine 'devoured' in anticipation of being able to taste the rich and diverse regional specialties featured in the episode herself. Next, Shelby shares a family recipe passed down from her grandmother, affirming the power of food to bring us together even across generations. And to round us off, Donato tells us about his path to better health and personal 'rebirth' that began a few years ago and continues today.
Shifting gears, Hannah and Tommaso confront important political topics in Italy and at the international level: Hannah's article rekindles the debate of cancel culture and the role of statues in modern society in relation to a recent controversy with the celebrated journalist Indro Montanelli. Then, Tommaso retraces the past 100 years of history for the Italian Communist Party in light of its anniversary celebration at the beginning of 2021, reflecting on its successes and failures with the hope of taking example from the past.
Art and architecture are particular points of pride for Italy's culture and are among its most important appeals to the international audience: Rebeca describes with detail the splendid Palatine Chapel in Palermo – a perfect example of the fusion between the diverse cultures that have been found in the country over the course of centuries. Then Cristina traces the parallels between our current situation and that described by Boccacio in one his most famous works, The Decameron. After which we have an interview done by Hannah of Rocky Ruggiero, a tour guide who has managed to invent a way to share Italy's cultural heritage in all of its glory with thousands of virtual tourists.
To finish up, we have a report on the 4th annual Power of Language conference which took place on April 10th: Emily, a member of the Student Steering committee that helped with its organization both online and in-person, pays homage to all of the people responsible for making the event possible – in hybrid format for the first time no less! – and shares her reflections on the importance of language in an increasingly interconnected world.
We hope that you all enjoy our new edition for this spring and that our impressions and manifestations of rebirth will inspire you to discover and reflect on your own! And if you would like to read more, please check out our website with all the previous issues at http://camillazamboni.wescreates.wesleyan.edu/wescrive/magazine-rivista/
— The Editorial Board of WeScrive