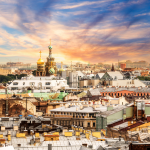 Peter Rutland, the Colin and Nancy Campbell Professor in Global Issues and Democratic Thought, professor of government, is teaching the Spring 2021 course Russian Politics. As a part of the course, students joined a virtual discussion with students from a class in Ethnopolitics taught by Guzel Yusupova, Assistant Professor at the Presidential Academy of Public Administration (RANEPA) St. Petersburg branch.
The discussion was frank and lively, and covered what Russians think of America, what Americans think of the US, and the state of US-Russia relations. "The Wesleyan students included four students from China and one each from England, Japan and Mauritius, so there was a lot of interesting discussion of Russia-China mutual perceptions," Rutland said. "The question of corruption came up and there was some sharing of experience of practical experiences in daily life in Russia and China, and debate about the politics of corruption at macro level in all three countries."
Director of Study Abroad Emily Gorlewski said, "This is a great example of virtual exchange. By coming together for this one discussion, the students and faculty enhanced their teaching and learning on the topic. It's so heartening to see that global learning does not stop just because we're not traveling."
Yusupova noted the format of virtual exchange was a new and useful experiment for her. "It's amazing how students from different continents are both similar and different: open, critical, inquisitive, but at the same time with clearly different ideas about how the world works and how to assess the importance of certain developments," Yusupova said.
This was not the first that Rutland and Yusupova collaborated. Together, they have co-edited a special issue of Nations and Nationalism on "Nationalism in the Digital Age" (April 2021).