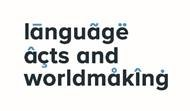 Language Acts and Worldmaking is pleased to announce that registration for its conference Languages Future, which is taking place via Zoom on Thursday 15-Friday 16 April, and Wednesday 21–Friday 23 April 2021, is now open. The guiding principle of Language Acts is that language holds the key to how we understand and construct the world and ourselves. This we call worldmaking. This principle has inspired the connections we try to make between Modern Languages research, teaching and community. So far, we have worked with several hundred co-researchers and practitioners from a wide range of educational, social and cultural organizations. In our 2021 conference we want to strengthen these communities who share the aim of making language-learning inclusive, socially engaged and international in scope.
Languages Future consolidates our research by considering as a community how our work in languages and worldmaking should intervene in the major debates of our time. A key question is about capacity building for future language learners, researchers and activists. Languages Future is a call for action. How do we boldly communicate the impact of the work languages do in the world?
The conference features an invited talk from special guest speaker Prof David Crystal.
Conference themes include "ways of worldmaking", "innovative pedagogy", "new horizons" and "language actions".
Program
To view the full conference program, abstracts and speaker bios, please see https://languageacts.org/conferences/languages-future/programme/
Registration
The conference is free to attend but registration is essential. Registered attendees will be emailed details of how to join the day before the event. To register please see https://www.eventbrite.co.uk/e/languages-future-conference-tickets-145848170805
Special events
Alongside the conference, there will be two special public events:
A university Languages teachers and lecturers online Forum Theatre courtesy of our research strand Diasporic Identities, in collaboration with Cardboard Citizens
Multilingual community cinema courtesy of our Small Grant awardee The Deptford Storytelling Project, in collaboration with Deptford Cinema
For further information on these events, see https://languageacts.org/events/
For any further queries, please email languageacts@kcl.ac.uk.
We hope to see you there, 'venez'nombreux!
The Language Acts and Worldmaking team
Language Acts and Worldmaking
An AHRC Open World Research Initiative flagship project www.languageacts.org
Email: languageacts@kcl.ac.uk | Twitter: @languageacts | Facebook: languageacts