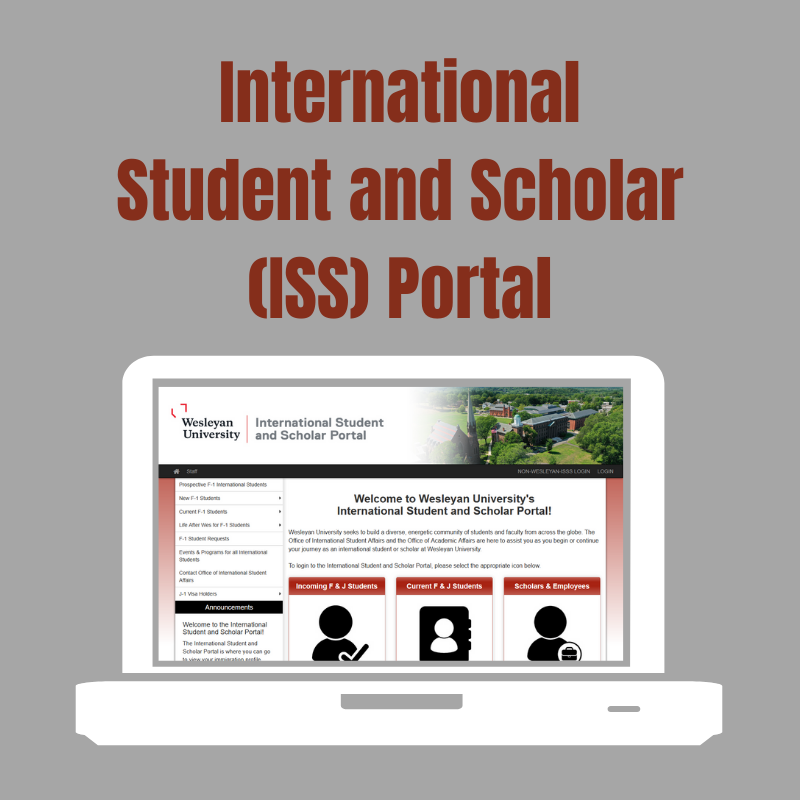 The International Student and Scholar (ISS) Portal was launched on February 1, 2021 by the Office of International Student Affairs (OISA). Serving as an important connection between F-1 visa students and OISA, the ISS Portal allows students to submit the requests, information, and documents required to maintain their F-1 status and apply for benefits. The ISS Portal will be used throughout a student's time at Wesleyan, from requesting their initial Form I-20 through post-completion Optional Practical Training (OPT) and OPT STEM Extension.
Students navigate to the ISS Portal through a red button on the OISA website Welcome page or the ISS Portal link on the OISA website's navigation menu. Access to their ISS Portal accounts is gained by clicking on LOGIN at the top right corner of the site and using their Wesleyan credentials.
At the beginning of the spring semester, students were given access to their ISS Portal accounts and asked to perform initial tasks. This included personalizing their profiles through providing a picture, a bio, their preferred name, and pronunciation guides for their given names. Both returning students and those coming to campus for the first time were asked to complete a check-in to provide OISA with important documents and information necessary to complete their registration in the Student and Exchange Visitor Information System (SEVIS) and demonstrate that they have the knowledge and understanding needed to maintain their F-1 visa status. These check-ins will be performed at the start of every semester that a student is in active status at Wesleyan.
The ISS Portal will serve as the primary connection between F-1 visa students and OISA. Through the ISS Portal, students will be able to schedule meetings with an international student advisor and make important requests necessary to maintain their status and take advantage of the benefits available to them as F-1 visa students. This includes applying for and fulfilling reporting requirements for employment authorization through Curricular Practical Training (CPT), OPT, and OPT STEM Extension.
For campus partners, the ISS Portal is a centralized location for student information. Departments have been granted access to specific areas of the ISS Portal, giving them the ability to directly provide and retrieve information essential to serving F-1 visa students. This will streamline the process of providing student services and allow for direct access to important information, day or night.