Selfie: "Madrid" by Shayna Dollinger
Location: Madrid, Spain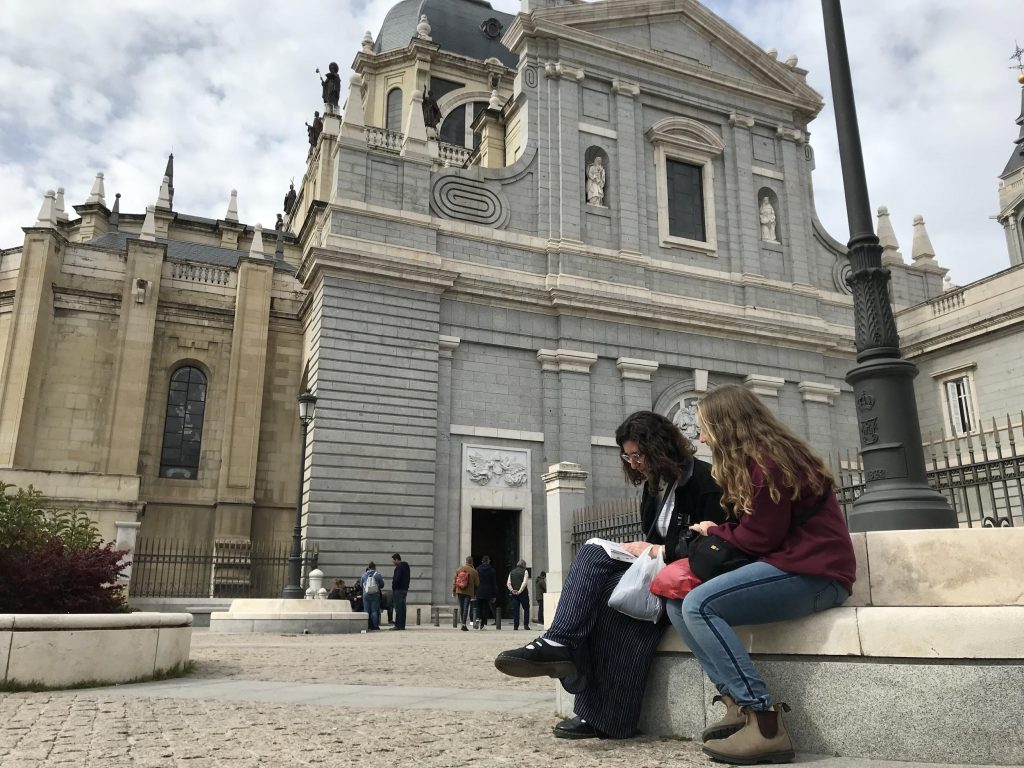 Traveling to Spain meant immersing ourselves deeply in the beautiful and sometimes problematic history of this country. Here, we took a moment to read about a church in Madrid before we entered the holy site.
Equity: "Unequal Justice" by Geoff Byrne
Location: Washington, D.C.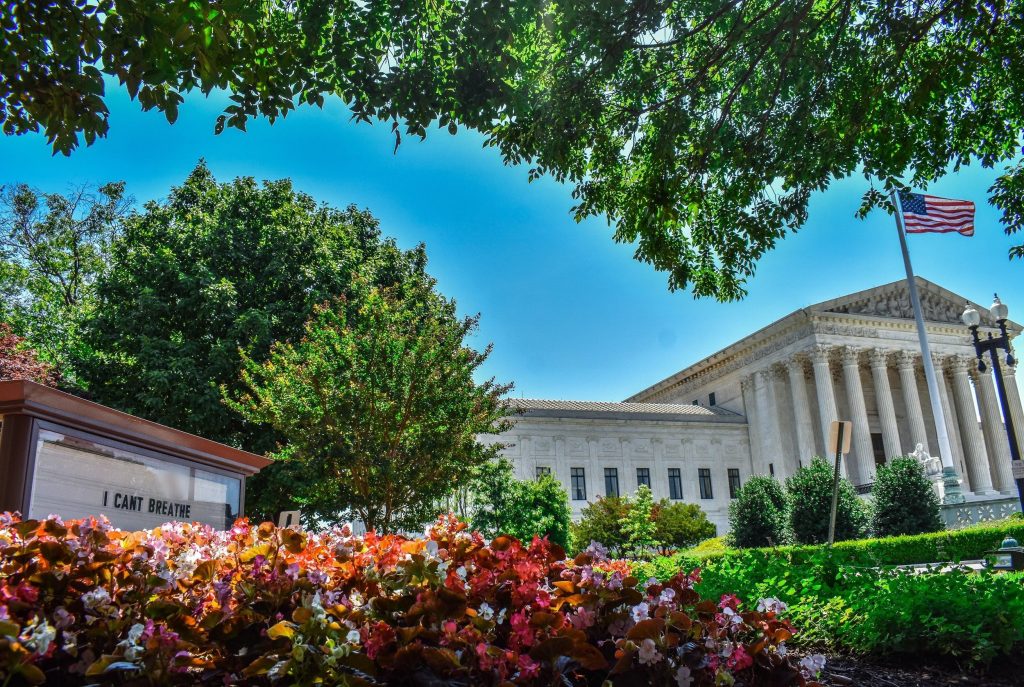 Engraved in stone, the phrase "Equal Justice Under Law" serves as the center piece above the West entrance to the Supreme Court of the United States. Just a few hundred feet away, the sign in front of the United Methodist Building displays a quote from a man, the words uttered in his final moments, whose horrific death would spark nationwide protests, tragically bringing much needed awareness to the inequities in our legal system and history of systemic racism in the United States.
Urban: "Zoom Zoom" by Ann Zhang
Location: Chengdu, China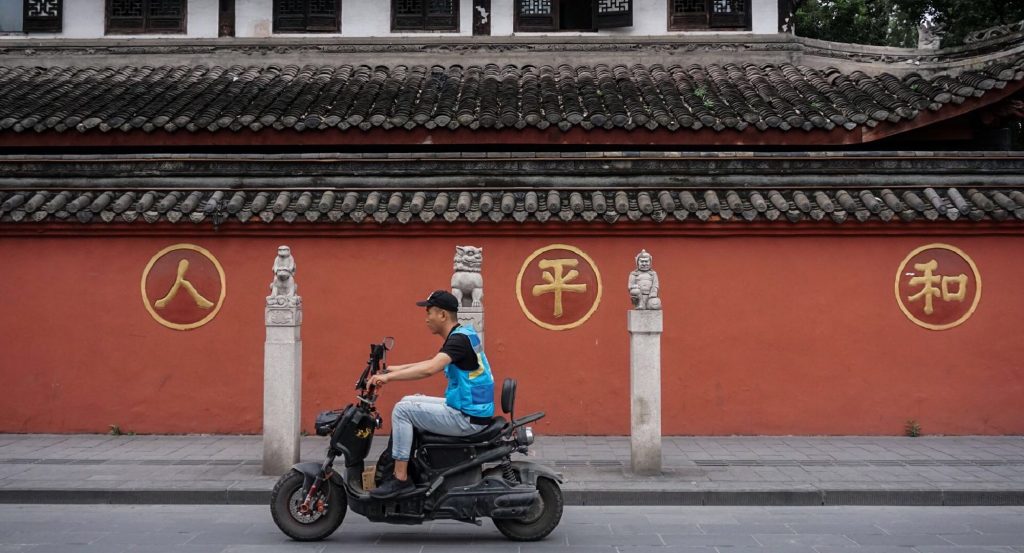 At 300-year-old Wenshu Yuan Monastery in central Chengdu city, three Chinese characters are written on the wall––和(peace), 平(equality/peace), 人(human) (right to left). A 30 year old delivery man zoomed by, passing 和 and 平, getting to 人. Almost like a parallel universe. This country started crazy urbanization about 30 years ago, probably just when the man was born. People in this country fought for peace, is fighting for equality, and will fight for human. And we are all ZOOMing there.
Pandemic: "Esperanza" by Leila Etemad
Location: Madrid, Spain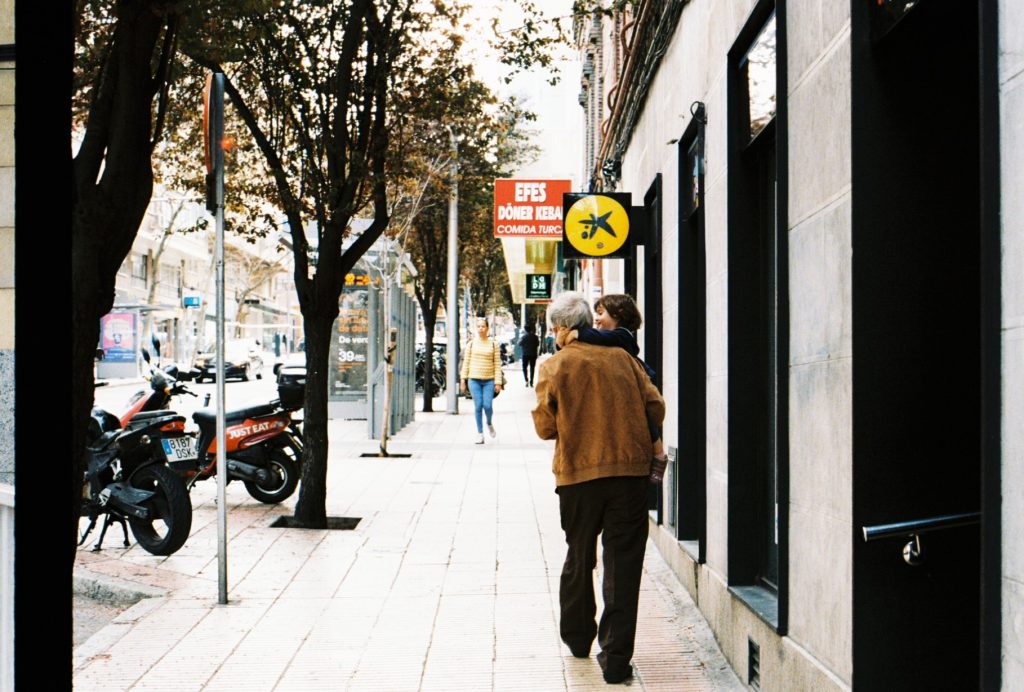 As I wandered through the streets of Madrid on my last day, unaware it was my last day but aware my days were numbered, I felt a sinking feeling of sadness and uncertainty. Madrid's cases had doubled exponentially over the past 4 days and the city had just announced schools would close. Despite the gravity of the situation, I witnessed a city alive with faith and love. I saw children playing soccer in the streets, couples holding hands and hugging on sidewalks, people gathering in worship spaces, and many grandparents taking care of their grandchildren. I love this photograph because, when I saw this grandfather walking with his granddaughter, the tugging feeling of despair in my gut instantly dissolved and was replaced by hope. In that moment, I was reminded that throughout all of this we still have each other.
Natural: Zion's Brightest Futures" by Grant Hill
Location: Kanab, Utah
The vast nature of Zion, silhouetted here while illuminated by a summer sunset, displays some of the awe-inspiring beauty that the cross sections of our desert and mountain regions flourish upon. An area greatly at risk of being damaged by flagrant environmental policies creeping onto the capitol hill agenda under the current administration. Much like the beauty of this land, the many profoundly influential lessons which we derive from our travel to the various continents of the world are being placed at risk of no longer being an option to the people who will follow in our footsteps at Wesleyan.
This photo was taken off the back edge of a campground bunkhouse which is being built by a non-profit in Kanab, Utah to provide opportunities for prospective first-generation college students to prepare college applications and experience the magically spiritual engagement of learning by and through the nature of places we have left missing from our curriculums nationwide.
Nature is worth protecting, and we can only protect it if we learn from it. Whether we are here in the United States, where forests are burning by the thousands of acres, or in the rainforests of Madagascar, it is paramount that we place nature, and its protection from predatory policy, at the center of our unity with our fellow humankind and citizens of the world.
People' Choice Award: "A generation apart" by Shayna Dollinger
Location: Playa Vista, California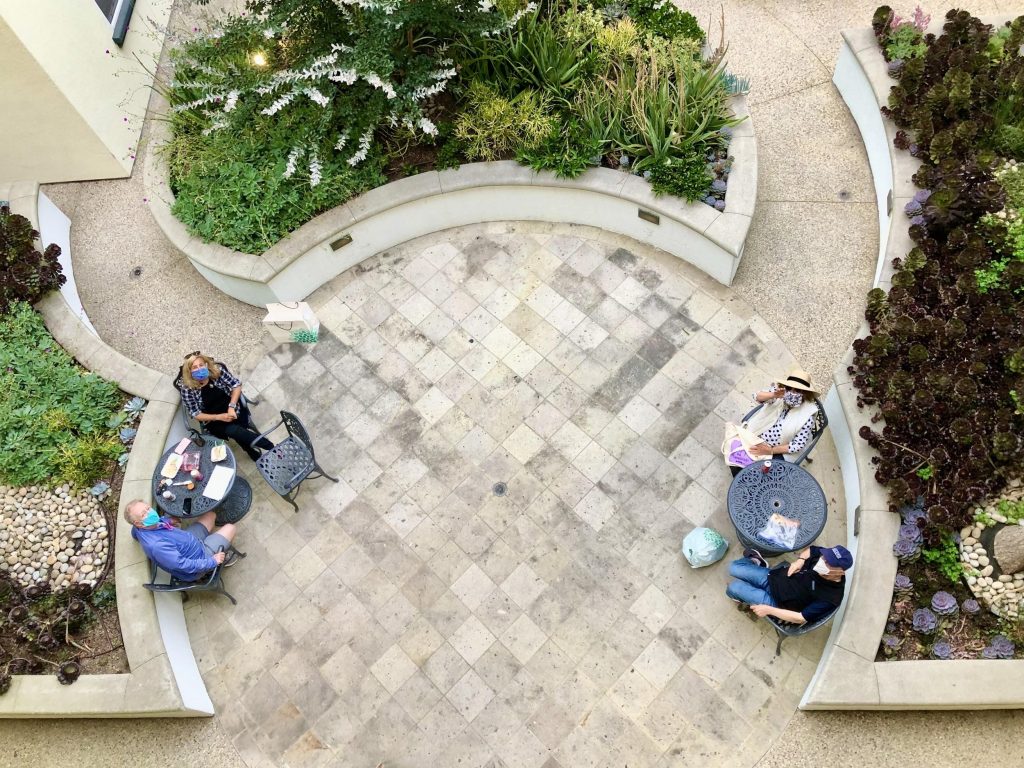 In mid-April, when restrictions in California were beginning to lift, my family drove the seven hours to Los Angeles to visit my grandparents. With six feet and masks between us, it was difficult to say the least. I couldn't give my grandma a hug or help my grandpa down the steps, but through distanced meals, we brought my grandparents more joy than they had experienced in months.