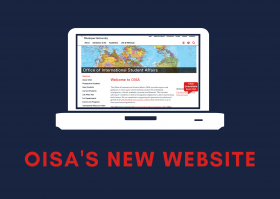 The newest version of the Office of International Student Affairs' website went online in November. Months of working with campus partners and taking in student feedback resulted in a comprehensive site designed to meet the needs of Wes' international population through each phase of their student experience.
Most content on the site is divided into three main categories: New Students, Current Students, and Life After Wes. For each category, information is filtered into sections titled Immigration and Beyond Immigration.
Content in the Immigration sections provide important details that all F-1 visa students must be familiar with in order to maintain status while studying at Wesleyan. Individual pages address each point in your student journey, from obtaining your initial Form I-20 to meeting your reporting requirements while on Post-Completion Optional Practical Training (OPT) or STEM OPT (and everything in between).
The Beyond Immigration sections provide information that address topics in the international student experience that go beyond what students need to know to meet their immigration requirements. This includes helping soon-to-be students to prepare for studying at Wes, pointing current students toward essential campus resources, and helping upperclassmen get ready for graduate school and the working world.
The new OISA website will be continuously updated over the next year to incorporate additional resources and feedback from campus partners and better meet student needs. Each semester, the Programs and Events section will display upcoming sessions and workshops vital to helping students prepare for Curricular Practical Training (CPT) and OPT as well as to make the most of their time at Wes. Also be sure to check out the homepage regularly for important alerts and announcements that all international students need to know.