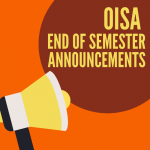 The Office of International Student Affairs (OISA) hopes that you had a good fall semester, despite the unique challenges that our world is facing. We are impressed by everything that you have done to make the past few months the best they could be, by taking important health and safety precautions including social distancing from friends and classmates. Those of you who are studying remotely have also remarkably adjusted your life's schedules to Wesleyan's Eastern time zone, despite the daylight or darkness outside of your windows.
With winter break almost here, we wanted to provide you with important information and updates, whether you are returning to your home country or staying on campus during the break.
Drop-in Hours
The last day of online drop-in hours for the Fall Semester is Friday, December 11, 2020. There will be no drop-in hours after this until February 9, 2021, the start of the Spring Semester. Students should email oisa@wesleyan.edu if they have questions during the break.
OISA Winter Office Closure
OISA will be closed from Thursday, December 24 until Monday, January 11. Those with questions or concerns during the break should email oisa@wesleyan.edu and an OISA team member will respond to you as soon as possible.
Travel Signatures
If you missed the deadline for travel signatures before the Thanksgiving break, do not panic! You do not need a travel signature to leave the U.S. However, you do need one when you come back to the U.S. If you depart from the U.S. with an expired travel signature, please pay for a shipping label via UEMS and email oisa@wesleyan.edu to let us know. We will mail you a new I-20 with a travel signature.
For those staying on campus over the break:
OISA Winter Break Coordinators
Winter break coordinators will be sending out emails for community building events throughout the break. Check the OISA Facebook page frequently as the events will be posted there as well. You can also contact them if you have any questions or concerns during the break.
Coordinators emails
Important Phone Numbers