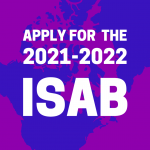 Want to become more involved with shaping the international student experience at Wes? Apply to be a member of the International Student Advisory Board (ISAB)!
ISAB is composed of 7-10 current Wesleyan undergraduate students. The application process, which is open to all undergraduate students on campus, is competitive and seeks to seat a board that is highly diverse and broadly representative of the university's international student body. ISAB members are expected to think critically, ask difficult questions, perform research and analysis, engage in dialogue, work with a myriad of cultures, and promote advocacy.
For more information about the ISAB, including membership rules and responsibilities, visit https://www.wesleyan.edu/oisa/isab/index.html
ISAB members will:
Be an accessible and visible resource for the international student community.
Foster a supportive intercultural learning community among international students.
Keep the University accountable and responsive to international students and their concerns.
Act as campus leaders in encouraging discussions, collecting feedback, advocating for their needs, and raising the visibility of international students.
Give insight and develop relationships with other Wesleyan offices and student organizations.
Apply to be an ISAB member here: https://forms.gle/YGgTLq27hN9fpU4M8
Application deadline is Sunday, January 31, 2021 at 11:59 EST.