Written by Genesis Garcia '22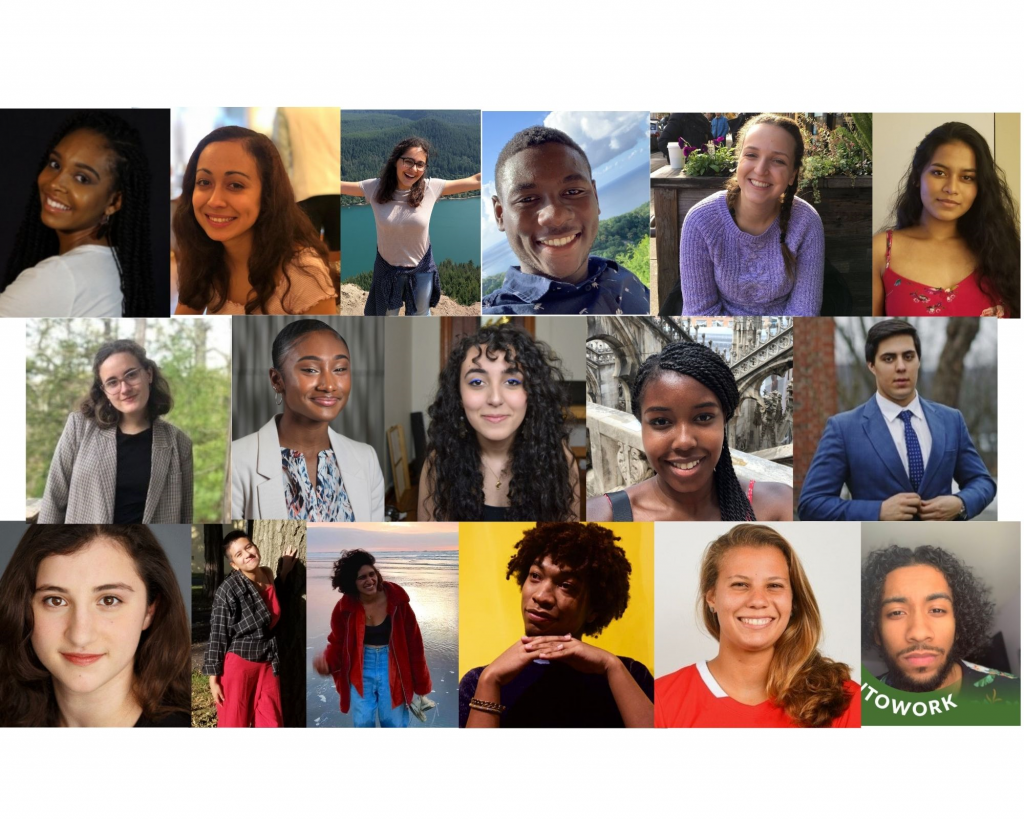 First Row (left to right): Kai Burton, Lupita Sanchez, Jesse Simmons, Pablo Wickham, Sophie Talcove-Berko, and Sarah Shehreen
Second Row (left to right): Lizzie Edwards, Alice Swan, Nour-Saïda Harzallah, Lexi Cummings, and Will Briskin

Third Row: Tessa Zitter, Grace Lopez, Akanksha Kalasabail, Jace Arouet, Indigo Pellegrini de Paur, and Julio Evans
We would like to congratulate, give our best wishes, and highlight the 18 seniors applying for the Watson Fellowship. The fellowship application process is a rigorous and transformative process that pushes students to explore themselves and their passions. Each applicant has demonstrated energy and enthusiasm to shape the world around them.
The Watson Fellowship is an opportunity for graduating seniors to independently research an area of interest on a global scale. Fellows build their projects and decide where their passions can lead them around the world. Each year, Wesleyan nominates four candidates to move onto the national round of the Watson application process.
This year's applicants have a wide range of interests from biology to film. The bios below honor each applicant's decision about sharing their proposed project. One person preferred not to be featured in this story.
Jace Arouet is pursuing a music major with a dance minor.
Sophie Talcove-Berko is a government major from the Bay Area passionate about international peace and conflict resolution and human rights work whose Watson project aims to study the role of food as a soft power tool for diplomacy and political change.
Will Briskin is a government and history double major.
Kai Burton is a College of Social Studies major.
Lexi Cummings is majoring in psychology with an African studies minor.
Lizzie Edwards is an anthropology and environmental studies major passionate about environmental justice and refugee resettlement. Her proposed Watson project examines the potential for environmental peacebuilding projects to foster peace among divided communities.
Julio Evans is pursuing an American studies major with a Caribbean studies minor.
Nour-Saïda Harzallah is an international student from the beautiful country of Tunisia pursuing a triple major in physics, molecular biology & biochemisty, and the College of Integrative Sciences. Although Nour-Saïda's academic life is dedicated to the sciences, her heart belongs to art and music. Her Watson project centers around the politics of natural hair in the African continent and beyond.
Akanksha Kalasabail loves reading, writing, and being by the ocean.
Grace Lopez is a film and anthropology double major passionate about community building, screenwriting, and music. Their Watson project would explore the diaspora of cumbia (a music genre), its transformations, and the grief from community displacement that informs the genre.
Indigo Pellegrini de Paur is an anthropology and government double major with a minor in Middle Eastern studies.
Lupita Sanchez is a BA/MA student working in the Biology department interested in going into the healthcare field whose Watson project would explore mental health stigma in different cultures.
Sarah Shehreen is a neuroscience & behavior major with a College of East Asian Studies minor who is passionate about how culture is embodied through food. Her Watson project is about the evolution of meat-rice dishes in the Middle East, South Asia, and West Africa.
Jesse Simmons is majoring in anthropology and biology and currently works on Long Lane Farm, serves as a GIS assistant, and plays club soccer. Jesse's Watson project aims to explore local food justice dynamics by traveling to communities and projects that have found ways of organizing and growing (food, community, knowledge) outside of or in tandem with mainstream capitalist structures.
Alice Swan  is a first-generation college student, from Springfield, MA, double-majoring in Government and East Asian Studies, and minoring in African American Studies. Her current and everlasting ambition is to be an agent for progress, empowerment, solidarity, equity, and liberation, in the workplace, media, academia, and beyond.
Fitzroy 'Pablo' Wickham is a neuroscience and theatre double major with a chemistry minor who hails from the beautiful island of Jamaica. Pablo's project proposal for the Watson Fellowship explores storytelling, how it has evolved in different cultures, and examines how it functions to actively prevent societal forgetting.
Tessa Zitter is an archaeology and classical civilization double major.