As the world changed drastically because of Covid, my life as an international student at Wesleyan also got shaken to its core: I'm now on a desolate campus where my most beloved friends are no longer here with me for an infinite period of time. Many feelings flooded me; perhaps too many, so that it was difficult to even name them. I was then introduced to a Writing Through poetry workshop on the topic "Bridges." I was able to connect with not just my Wesleyan peers but also people from all over the world as we embarked on a 1-hour journey to compose a poem together. We opened up about many sentiments that we all shared going through this time period. I could finally name those feelings, and unpack them, and even better yet, through a poem I never thought I could write. I hope others can also find the comfort that I did through those creative writing workshops offered by a wonderful NGO founded by one of our own Wesleyan alumnae, Sue Guiney. I hope our friends of Wesleyan across the globe will be able to write through their grief and pain, their joy and happiness in this tremendously challenging time, with Writing Through workshops.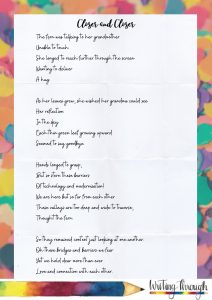 Online Workshop Schedule
Writing Through is an international educational NGO teaching thinking skills, self esteem and language fluency through creative writing workshops.
While the world is going through changes, so are we. We are bringing our program to you via Zoom! These workshops are a great opportunity to take a moment for yourself, get inspired and write during these times of great change. Learn our proven techniques for creative writing in the comfort of your own home. 
We are offering both poetry and journal writing workshops, these are a great way to meet like-minded people from around the globe, get creative and engage in a therapeutic discussion and writing activity.
– All workshops are FREE!
– Limited spots are available, please contact info@writingthrough.org to reserve your virtual seat or book directly here.
– Please note all time zones are in Cambodian time (KH) or Eastern time (US). 
– If you're unsure about your time zone, please don't hesitate to get in touch!
– All workshops are conducted in English.
-Workshops last for approximately 90 minutes
Everyone is welcome!
We have one more in May, this Saturday morning at 11am from Martha's Vineyard! Don't miss your chance to join, email info@writingthrough.org as soon as possible.
June Schedule
Tuesday 2nd (US) 7pm -poetry, Taking Risks
Thursday 4th (KH) 2pm– poetry, Taking Risks
Saturday 6th (KH) 11am– Journal Writing – When the borders closed
Thursday 11 (KH) 2pm– Journal Writing – Masks
Saturday 13th (US) 11am– Journal Writing, 2 Meters/6Feet apart
Sunday 14th (KH) 2pm – poetry, Bridges
Tuesday 16th (US) 7pm -Poetry Changes
Thursday 18th (KH) 2pm– Poetry Changes
Saturday 20th (KH) 11am– Journal Writing 2 meters/6 feet apart
Thursday 25th (KH) 2pm – Journal Writing Borders Closing
Saturday 27th (US) 11am – Journal Writing – Masks
Sunday 28th (KH) 2pm – Poetry Taking Risks
Tuesday 30th (US) 7pm– Poetry Bridges
We are overjoyed to be interacting with old and new friends around the world and working through these experiences together. Please email us at info@writingthrough.org to book your spot or click here to book your spot directly. We limit participants to ensure the quality of each session. We will contact you and find an alternative session if we do not meet minimum required participants. Please don't hesitate to contact us if you have a group interested in doing a private session. We are happy to accommodate as best we can.
We will be emailing each week to keep you updated. Please let us know if you would rather not hear from us and we will remove you from the mailing list.
We hope to see you soon!
Writing Through