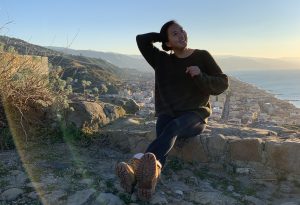 Ciao a tutti! Hello everyone! 
Our world has undoubtedly turned upside down due to Covid-19; however, prior to the pandemic I was fortunate to have had my Fulbright experience abroad in Sicily as an English Teaching Assistant at a specialized Italian high school, Istituto Tecnico Borghese-Faranda. Throughout the school year, I was placed in a remote town called Patti. 
My responsibility as a Fulbright scholar was to encourage student participation and prepare my students for their respective jobs. I created immersive lessons by including videos, songs, games, and personal anecdotes in my presentations ultimately improving my students' understanding of the English language and culture. I also encouraged my students to participate in weekly lunches that I held entirely English; therefore, they had the opportunity to apply their language skills outside the classroom. 
Living in Patti truly gave me the opportunity to immerse myself in the Sicilian culture. When we talk about Sicilian food we are referring to arancini, pasta alla norma, and pesce stocco. The arancino is a fried rice ball stuffed with meat, peas, and cheese. Pasta alla norma consists of fried eggplants, baked ricotta, tomato sauce, and basil. Pesce stocco is cod seasoned with Sicilian pride. It would be a shame if you were to visit Sicily without tasting at least one of the three dishes mentioned! 
When we talk about friendship in Sicily we are referring to the friendly local barista, the strangers who suddenly become friends, and the friends who become family. When I arrived in Patti, it was very difficult to meet people my age; however, after joining a gym and interacting with the locals, I found myself becoming part of multiple Italian families. 
Working in Sicily was more than an adventure — it was a humble exchange, an unforgettable memory, and an experience that can never be replicated. I encourage anyone who is looking to challenge themself to take the initiative and take that leap even if the final destination is yet to be decided. 
I sincerely hope that everyone is able to remain healthy, safe, and most importantly, optimistic during these difficult times. 
Click for more information about the Fulbright program, this year's Fulbright grantees and alternates, insights from Amad Amedy '19, Abe Kipnis '19, and Jed Munson '19, and reflections by Fulbrighters who returned to the U.S. due to COVID19: Amad Amedy '19, Katie Murray '19, and Emma Porrazzo '19.