Written by Inayah Bashir '20 with Magdalena Zapędowska
The mission of the Luce Scholars Program is to enhance the understanding of Asia among future American leaders through individual professional placements combined with language training in Northeast, Southeast, and South Asia. Up to 18 fellowships are awarded each year. The program is open to U.S. citizens and permanent residents under the age of 30 who haven't had significant experience in Asia and whose background is in any field except Asian studies. This year we are excited to have three excellent candidates for the Luce: Lupita Sanchez '20, Kate Sundberg '20, and Miriam Zenilman '20. They represent a variety of interests, passions, and aspirations.
---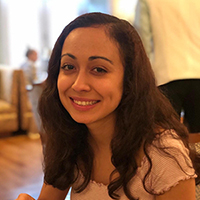 Lupita Sanchez, a McNair Scholar from northern California and a biology major, discovered her passion for science early on in her time at Wesleyan. She has been working in Professor Coolon's genetic lab since her freshman, where she has been working since first year. To explore other areas of science, she volunteered with Saha Global to help set up a clean water system in Ghana, and this past summer she participated in a research program in Mumbai. Lupita wants to pursue a career in the medical field that involves working directly with people from diverse backgrounds. For that reason, she has been refocusing her work on global health and genetic counseling. She believes that the Luce fellowship would be the perfect opportunity to explore these fields while also learning about a different culture.
---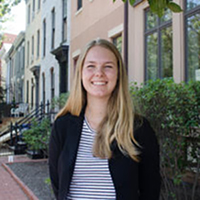 Kate Sundberg is a chemistry and environmental studies major from Florida. She is writing a senior thesis in Professor Taylor's lab on how to convert lignin, an organic polymer found in plants, into a biofuel. Outside of academics, Kate works to promote sustainability and food justice through her involvement in Wesdivest, Wesleyan Local Co-Op, and Real Food Challenge. A semester in Nepal opened Kate's eyes to the problem of waste management and how it affects developing countries. She now reduces her personal waste as much as possible. Kate applied for the Luce because she wants to continue working on waste reduction with an organization focusing on zero waste. She is also excited about the challenge of learning a new language.
---
Miriam Zenilman is from Long Island is pursuing a College of Letters major with a film minor and a writing certificate. An aspiring filmmaker, Miri has directed and produced both narrative and documentary shorts, and has experience working in production companies and on a feature film set. She is specifically interested in historical Jewish narratives and finds visual storytelling to be an effective tool to explore her own identity. Miri wants to spend her Luce year working in the entertainment industry of an Asian country in order to gain an understanding of different filmmaking traditions. She hopes to expand her horizons while being immersed in another culture and learning about the perspectives of a variety of potential viewers.
We are proud to have each of these candidates represent Wesleyan in the national competition for the Luce. We wish them the best of luck in all of their endeavors!