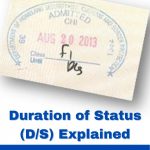 The Office of International Affairs (OISA) has received many questions about the U.S. Department of Homeland Security's proposal to replace Duration of Status and how it might affect international students.
What is Duration of Status?
International students have a certain amount of time to complete their degree programs and return to their countries. When a student gains admission to the United States under F-1 status, a U.S. Customs and Border Protection officer will stamp his or her passport with an admission stamp. This stamp will contain a date in which the student must exit the U.S. Most students have an admission stamp that says "D/S" instead of a specific date, with D/S standing for "Duration of Status."
Duration of Status, in this situation, means that as long as the student is maintaining F-1 visa status, he or she can remain in the U.S. The primary purpose for your admission into the U.S. was for you to study. Please read about maintaining your status on the Study in the States website: https://studyinthestates.dhs.gov/students/maintaining-status
Proposal to Replace Duration of Status
The U.S. Department of Homeland Security published a proposed rule to eliminate duration of status for F-1 students and their dependents on September 25, 2020. There was a 30-day comment period that ended on October 26, 2020, although there was a proposal to extend this time. As of now, no changes have been confirmed.
OISA is closely monitoring this proposal will provide more information as soon as it becomes available.